Top Ten Places To Eat Out On A Budget – Perfect for Students In Leeds
Aug 31, 2022 02:13 pm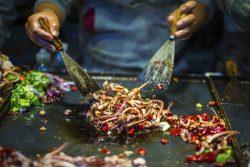 student living can be hard, and pasta or instant noodles can seem depressing after a long day of lectures. But living in the cultural melting pot of Leeds means that there's always new food to try, and there shouldn't be a reason to miss out on catch up meals with your mates! 
We've put together this master list of must-try student restaurants, cafés, and street food. Sometimes it's nice to let someone else do the hard work! Without further ado, here are our top picks for places to eat out that aren't going to eat in-to your budget: 
Sushi Waka, 26 New Briggate, Leeds LS2 8JD 
Staying true to the eat-in end of the spectrum, SushiWaka are dedicated to serving authentic and undeniably delicious Japanese cuisine. Here, you'll never pay more than you'd pay at a high street Japanese chain, and unlike these chain stores, is always served fresh to order. Don't believe me? Check it out yourself! Its location on New Briggate also makes it ideal for those looking for somewhere to chow down before hopping on a bus home, or for heading back into town for a drink or two. The best part is, thanks to the enormous portions, there's always enough to take home later. Consider this a two meal for the price of one adventure! 
The Humpit, Corn Exchange, Call Lane, LS1 7BR 
A real classic amongst students here in Leeds. In fact, they loved it so much, they voted to build one in the Leeds University Student Union in 2017. Now that's dedication! Stripping street food down to its core, the Humpit serve good old-fashioned hummus, mouth-watering falafel, and warm pita to keep you fed, fuelled, and focused. With over seven years of experience, they're guaranteed to serve good food that's also pocket-change friendly. 
Pho Trinity Kitchen, 27 Albion Street, Leeds LS1 5AT 
Up and running since 2005, this healthy Vietnamese street food vendor is focused on great value, in terms of both money and flavour. With one location based permanently in central Trinity Kitchen, it's never too far away, making it the perfect option for last minute sit downs or conveniently planned lunches. 
The Bridge Inn Pub, 12 Bridge Road, Leeds LS5 3BW 
Look no further for redefined pub food than here. Serving everything from the pub classics to jackfruit bites and deli boards, the river-side location makes for beautiful views in summer. And as we all know, great food tastes even better when you've got an amazing view. Offering alternatives to pretty much everything available on their menu at no extra cost than their non-vegan or vegetarian options, this one's sure to be a hit for those with dietary needs. It would be hard not to include here on the list. After all, who can say no to bacon fries? 
21 Co. Café, Unit 32 Headingley Central Otley Road, LS6 2UE 
Whilst definitely on the smaller side, this quaint Headingley café isn't just in the centre of everything student, but it's also competitively priced, with tea and coffee costing as little as just £1. With a range of cake slices, traybakes and other traditional café treats, 21 Co. is perfect for little gatherings. On top of everything already brilliant about this place, it's also run for, and by, individuals with Down Syndrome to offer training and work experience, with a long-term goal of creating job opportunities. An easy way to enjoy a coffee and support a great cause, all on a budget! 
Delizza Van, Leeds City Centre 
If you're a fan of the grab and go, this one's perfect. A full 12-inch pizza for a fiver; what more could you ask for? But that's not all that's on offer. They also serve pasta and paninis, making it a great place to eat with indecisive mates, or even just for those who like a change. Usually parked outside the WHSmith on Commercial Street, this one's a must-try. 
Ambiente Tapas, 36-38 The Calls, Leeds LS2 7EW 
There's no better place to spice up your evenings than at Ambiente. A personal favourite of mine, it's impossible to have the same meal twice. Based in trendy The Calls, this place is perfect for those looking for a true restaurant feel without the same size restaurant bill! Not only do the smaller portions mean smaller prices, but it also gives you the chance to try out different food without the same financial pressure as other eateries. 
Manjit's Kitchen, Leeds Kirkgate Market, Leeds LS2 7BR 
Starting out in Leeds Kirkgate Market as just a street food stall, a £40,000 Kickstarter campaign flung this place to its rightful success in Leeds. The array of Punjab dishes on offer makes it impossible to find something you'd dislike, and none of them are out to break the bank! These tasty dishes are sure to leave you feeling good. 
The Belgrave Music Hall and Canteen, 1-1A Cross Belgrave Street, Leeds LS2 8JP 
Another artsy student classic, the Belgrave knows how to switch things up, offering alternating residence to different street food vendors. Currently occupied by Dough Boys pizza and Patty Smiths burger, previous kitchen residents include Caribbean Café, Laynes Espresso and Bundobust. Not only are you guaranteed good food, but you're also guaranteed a good time; the attached music hall and rooftop bar guarantee three floors of fun. So, whether it's a night out you're after or a midday meal, Belgrave have got you covered. 
Zaap Thai, Grand Arcade, Leeds City Centre, LS1 6PG 
Head Chef and Owner Ban, who was born in Thailand, moved to the UK more than 20 years ago to pass on the tasty cuisine of the world's street food capital. It's more than safe to say she did an amazing job, with the Zaap Thai menu offering more than 80 authentic Thai dishes, few of which cost more than £12. Once again leaning toward the group meal side, this place is perfect for those looking to dress up a little nicer in the evening without feeling expected to dish out some serious coin. 
This post was written by Iqra Amanat