Save money on student accommodation in Leeds – go all-inclusive!
Aug 30, 2022 07:21 am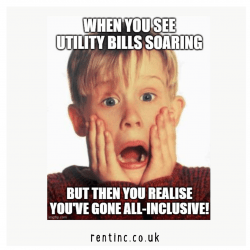 Every October, the staff at Rentinc prepare for another busy letting season to begin with their portfolio of student accommodation in Leeds. It's always an exciting time, especially when you own and manage over 200 houses and do so with a small, dedicated team of staff who are always happy to welcome new and not-so-new tenants. As well as opening our office doors to prospective tenants and showing them our wide variety of houses, it's also a time when our staff answer crucial questions for individuals and groups who may only just be entering the renting world. 
It can be a joyous and nerve-wracking time. My cousin started at York University this September, and when her university prompted her to start looking for next year's accommodation, she came to me and asked if this was legitimate. To her, it seemed odd that landlords were trying to get students to sign-up already. But, this is how it is in student lettings as the properties are very in-demand, and students must line up their accommodation as soon as they become available. More will always come on the market, but landlords like Rentinc, who own their houses, won't add more properties to their portfolios. Once they're gone, they're gone. So, if you want the best deal, best location at an excellent price point, you need to start house hunting right away. 
At Rentinc, we have everything from a cosy, modern studio to a spacious, en-suite eight-bed. Our staff know our portfolio inside and out, and they'll be able to set you up with exactly what you need, even if you're unsure of precisely what that is. The things you ideally ought to know before approaching a lettings agent are; 
• Price* 
• Location 
• How many bedrooms you're looking for 
• What do you like and dislike in a property 
Again, if you're not sure about those topics, ask our staff members to help you figure it out. They can show you a range of properties, and you can filter down what you actually want. It doesn't matter to Rentinc how many houses or flats you want to view because we're bound to have a property that suits your needs, and we enjoy taking the time to match you up. 
If you're already a Rentinc tenant and you're thinking about re-signing, that is great, and we'd love for you to stay. We know that you can have a few questions even with re-signing, so I encourage you to reach out to your Property Consultant and discuss your renewal. There are so many benefits to re-signing, such as the below; 
• Good renewal price 
• You don't have to organise and attend viewings 
• You don't have to move at the end of your fixed term 
• No organising moving your bills to another house or packing up your belongings 
• If you let us know straight away, you won't have to worry about any new groups coming for a viewing 
Our current tenants' can also inquire about other properties in our portfolio. As we cover Hyde Park, Headingley, Kirkstall and Burley, even if you want a new scene or you've changed jobs or left university, we can still help you find a new home. In Spring, we also offer house shares for undergraduates, postgraduates, professionals and a buddy-up service, so essentially, you're overwhelmed with choice. 
Choosing a property, you like the look of and that suits your needs is only the first step in the process. You have to decide whether to take your property, all-inclusive or non-inclusive of bills. With rising utility costs, you probably won't be leaving your heating on all day long, and you'll be nipping out of the shower as quickly as possible – well, that is if you go non-inclusive. 
Going all-inclusive is a luxury and can eliminate the stress you don't even know you will have yet. I have spent many hours discussing ALL-INC V NON-INC with tenants, and I know the benefits of the former outweigh entirely those of the latter. 
The biggest pro to going all-inclusive is that it saves money and is hassle-free. Many utility companies ask for an upfront payment for your bills, especially if your credit rating isn't high. Then, even if they give you a reasonable monthly price, you have the end of tenancy bill to consider. As a renter myself, I have never closed an account without receiving an end of tenancy bill. Whereas, with an all-inclusive package, they'll be absolutely no final payment for any utility at the end of your fixed term. This is especially important if you live with a big group because you could spend all year chasing your housemates for their share of the bills but then have to chase them all over again for their share of the final bill. Tenants often receive this after having moved out and may not be in close contact with their fellow housemates anymore, meaning it costs the head tenant money while waiting for the funds from their friends. Before opting for a non-inclusive contract, I encourage groups to consider the logistics of organising such agreements. 
No matter what tenancy you choose or how many more questions you may have on the process, the Rentinc team are fully trained and ready to help. Most of our staff were university students, so they understand what you're going through. 
*Try not to get yourself stuck with price by incorrectly working out the weekly amounts. Loads of people make this mistake, but it will help your housing hunting if you already know what to do. 
Don't times your weekly figure by four as there are more than four weeks in a month. Instead, do the following, and you'll know exactly what you're paying for, so they'll be no nasty surprises when you review your contract: 
(example) 
110.99 divided by 7 X 365 divided by 12 – that will take you to your monthly figure  
This post was written by Iqra Amanat