Aug 31, 2022 02:22 pm
Over the years everyone at Rentinc has fallen victim to a staff prank or two. There are a few long-reigning pranks that have been passed down through colleagues and a few new ones the current team has created. When you begin working at best student accommodation Leeds Rentinc you find yourself in a demanding job which keeps you on your toes, but the staff has learned a little child's-play can go a long way in breaking up those busy days with some smiles and laughter.
The most original is sellotape across the bathroom door. Nearly every staff member to walk through the office doors has at one point, gone to the toilet to then exit the bathroom and walk into a chain of sellotape across the door. Most end up ripping it off their foreheads but for Jessica, nobody realised that at only 5 feet, she would walk right underneath the tape.
Tom Stokes started at Rentinc as an inspector in 2013 and has been the victim to countless pranks. The best happened a few years ago when it was a different team to the current one. The staff thought he had similar features to Peeta from The Hunger Games and decided to stick pictures of the actor all over the office as a reminder of the similarities – even in the fridge.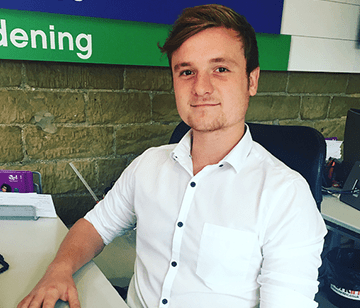 Days can get long in the office so on Friday's the team reward an 'employee of the week' and the voted staff member gets to leave work early. However, on one Friday the team couldn't choose and instead, Tom and Ruta received equal votes. Jessica couldn't decide who deserved the title for that week so – in an act of complete fairness – asked both colleagues to write a poem about her and the best would get to leave. Both poems were hilarious and slightly unflattering – Ruta came out on top. Not exactly a prank but also not a conventional management technique. 
Whilst, Tom was away from the office one day the team decided to hide his desk chair and replace it with a stool. Tom had spent countless hours saying he didn't like his work chair and we were tired of hearing about it. Upon his return, it took Tom hours to realise he was sitting on an entirely different – and completely uncomfortable – chair. When he did finally realise it took him even longer to find where it was hidden despite it being a large chair which had been squeezed into the bathroom.
During the weeks where the team conducts interim inspections work can get a little repetitive. Those who know the properties well will know that to obtain meter reads you often have to go into some pretty dark basements. On occasion, one staff member will head out and hide in the basement ready for their colleague, who is due to take the meter read. Then they do their best at scaring them which in these basements is a very easy task!
For as long as we can remember there have been Rentinc branded stickers floating around the office. These are at least ten inches long and none of us know why we have them. We have however put them to good use by sticking them to the coats of each other so that when they leave work they're still repping the brand.
Every Christmas we put up a tree in the office and every year, Tom brings in his little Leeds United star ornament to put on it. We all pretend we are going to break it or steal it to wind him up but upon taking the tree down last Christmas, Natasha did break his ornament. Here she is right after it happened!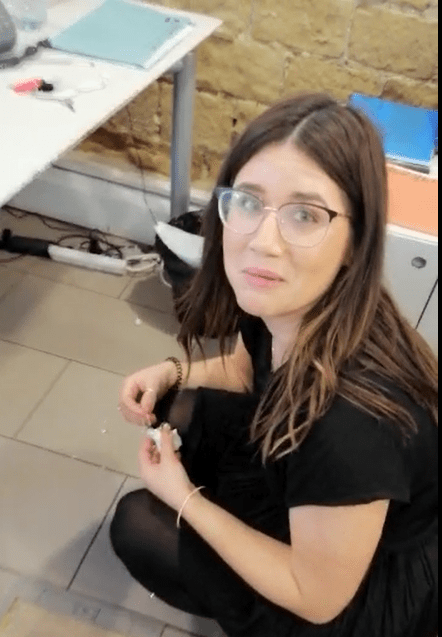 Conor was running around one chilly day, busy with a schedule full of viewings. He finally came back to the office for a much-needed meal. He was boasting about his homemade lunch to Jessica whilst she sat typing away at her desk. Conor was speaking of how excited he was to eat his lunch when he pulled it out of the microwave and proceeded to drop it all over the floor. Without a word, he bent over in disappointment for around 15 minutes in complete silence. Jessica thought it was a great photo opportunity.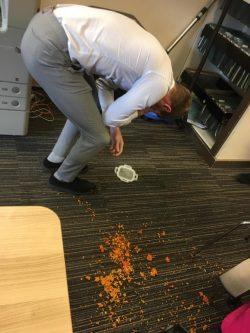 The ability to enjoy each other's company is the reason why the Rentinc team operates so well. Although we let our hair down from time-to-time, on the surface we are a hardworking group who aim to provide excellent customer service and ensure our tenants enjoy their time with Rentinc. The team are always happy to help so if you need to speak with us, please feel free to reach out and we will be happy to hear from you.
All the best, Rentinc
This post was written by Iqra Amanat